60 year REUNION ON AUGUST 19, 2023 BIG SUCCESS...
Once again, we were at the K of C Hall on E. Center St.
This may be our last reunion, but we'll react to your wishes! Meanwhile, we owe the class picture to several of you and need help identifying two people (#1 & 18) in this photo: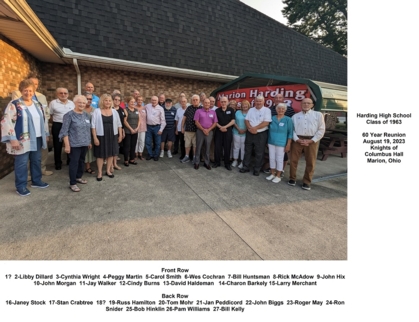 As soon as we have that information, we'll send your copy to you!
Call or text David Haldeman at 513-484-9729 to let us know.
ANNOUNCEMENTS
•

Richard Rees, Counselor

Richard W. "Dick "Rees passed away peacefully with his family by his side on July 3, 2022, at his home in Georgetown, Texas.

Richard was born on April 17,1933 in Follansbee, West Virginia to David and Iva Belle Rees. Rich graduated from Follansbee High School and then attended the College of Steubenville where he received a scholarship to play basketball. He graduated from the College of Steubenville with a Bachelor of Science degree and then later attended the University of West Virginia where he earned a Master of Arts degree in counseling. In 1955 he married Ellen Fante Rees, also from Follansbee. He and Ellen soon moved to Marion, Ohio where they proudly raised three sons: Rich of Georgetown, Texas, David of Morgantown, West Virginia, and their late son, Greg. They have
nine grandchildren including two sets of twins.

Dick spent a good portion of his working career with the Marion City Schools, where he was a teacher and then a counselor and Dean of Boys at Marion Harding High School. He loved his time at Marion Harding High School and made relationships with students and staff that lasted his lifetime. He often told stories of students he knew then and had kept in touch with as adults. After retiring from the school system, he owned several businesses in Marion and Morgantown,West Virginia. Dick was very involved in the Marion community. He spent time as the Director of the Parks and Recreation Department and was a member of the Lions Club and the Knights of Columbus.

Additionally, Dick was very involved with Democratic Party and was the Marion County Democratic Party Chair for several years. Family and friends were always very important to Dick and some of his fondest memories were of the annual "Father-Son" trip that he took with his boys and the McDaniel family. Later in life, Dick and Ellen returned to their hometown of Follansbee where Dick was a member of the St. Anthony Catholic Church, Knights of Columbus, and the Garabaldi Club.


He was preceded in death by his son, Greg, parents, David and Iva Belle Rees, his brothers Bob, Bud, and Ronnie Rees all from Follansbee West Virginia.Memorial contributions can be made to the Gregory A. Rees Memorial Scholarship Fund at the Marion Community Foundation.


Services will be held at St. Anthony's Catholic Church in Follansbee, West Virginia, on August 13, 2022 at 10 a.m.

•

Tom Sheskey, DECA teacher

See online obituary at

https://www.snyderfuneralhomes.com/obituaries/Thomas-John-Sheskey?obId=25327313#/obituaryInfo

Thomas J. "Tom" Sheskey, age 93, of Marion, went to be with the Lord on Friday, July 8, 2022, at OhioHealth Marion General Hospital following an extended illness.

On February 22, 1929, Tom was born in Buchtel, Ohio, the youngest of four children of the late John and Mildred (Russell) Sheskey. He was raised in Athens County, Ohio, where he graduated from Nelsonville York High School as the valedictorian of the class of 1947.

Shortly following graduation, Tom enlisted to serve his country in the US Army. During his service, he helped establish the G2 Central Records Facility in the pentagon, working with the Office of the Assistant Chief of Staff, G-2, Intelligence department. He was a veteran of the Korean War.

Upon his honorable discharge, Tom took advantage of the GI bill, graduating from Ohio State University with a bachelor's degree in education in 1955. While attending school, Tom was introduced to Dorotha Bradfield, whom he married on August 27, 1955. They shared forty years of marriage, and raised two children: Denise Ann "Dee" and the late John Leslie Sheskey. She preceded him in death on November 21, 1995.

After Tom graduated from OSU, he moved to Marion, Ohio, to teach at Marion Harding High School, where he taught distributive education, the DECA program, from 1955 to 1983. He took great pride in helping students find jobs after high school. While there, he was instrumental in starting the Marion Teachers Union (MET). During summers, Tom and his great friend Paul O'Rouke would paint houses and they helped run the Marion Recreational Department. For years, he also loved bowling on Wednesday nights in their teacher's leagues.

Once Tom moved on from his teaching career, he first worked for a short stint as the treasurer for the City of Marion. Next, Tom ran and was elected as the Marion County Treasurer, where he served his community for four terms. Tom was a member of the St. Mary Catholic Church, Knights of Columbus Council 671 of Marion, and was formerly a member of the Lions Club.

Throughout Tom's life, he was very involved in the Marion County Democratic Party. He also shared a mutual friend in the democratic party, who introduced Tom to his future bride, Victoria "Vicki" (Chesser) Fagan. From there, the rest is history. They were married on April 28, 1998, and cherished their 24 years together. He immediately accepted Vicki's family as his own, creating a beautiful union of their two families.

Avid travelers, Tom and Vicki traveled extensively throughout Europe, visiting as many countries as they could. They had a wonderful group of friends whom they traveled with.

Having a heart of gold, Tom always saw and tried to get the best out of everyone. He was someone you wanted to have as a friend, and who would help you out however he could. He believed in the power of education, and was proud to have lots of educators in his family.

Left to cherish his memory are his beloved wife, Victoria "Vicki" Sheskey; daughter, Denise "Dee" (David) Crosley; two step sons: Marty (Chris) Fagan, and Michael (Melodie) Fagan; 10 grandchildren and 18 great-grandchildren; and numerous nieces and nephews.

Including his parents, Tom was preceded in death by his first wife, Dorotha Sheskey; son, John Leslie Sheskey; three siblings: William and Robert Sheskey, and Betty Jane Meade; and a step-son, Robert "Matt" Kline.

A Mass of Christian burial honoring Tom's life and faith will be held at 10:30 am on Friday, July 22, 2022, at St. Mary Catholic Church, 251 N. Main St., Marion, with Father Seth Keller officiating. Burial with military honors provided by the Marion County United Veterans Council will follow in Marion Cemetery. Family and friends are then welcome to join them at a meal and time of visiting at the Knights of Columbus, 1232 E. Center St., Marion.

Memorial contributions may be made to the Nelsonville Food Cupboard, 421 Chestnut Street, Nelsonville, OH 45764 or to the St. Vincent de Paul Society, 342 N. Main St., Marion, OH 43302 (https://www.svdpmarion.org/).

On behalf of Tom's family, they would like to extend a heartfelt "Thank you" to OhioHealth Marion General Hospital for taking such great care of him as he was in the hospital for weeks. We will forever be grateful to all of those that cared for him. From the aides, nurses, cleaning staff, hospice, we are so thankful for al you did for him and us.

Snyder Funeral Homes, Gunder/Hall Chapel, are honored to serve Tom's family and your condolences may be expressed to them via www.SnyderFuneralHomes.com.

•

JACK GRAHAM HONORED

Harding High teacher (retired!) math teacher Jack Graham recently celebrated his 97th birthday. A fine teacher and just a great, personable guy. He had served in a B-24 bomber group in World War II and friends in the retirement community arranged a flyover in his honor on his birthday. We highly encourage former students, especially the class of 1963, to honor this great man with a waterfall of birthday cards and good wishes. Mr Graham can be reached at.....

Jack Graham
C/O Kingston Residence
464 Jamesway
Marion, Ohio 43302.

Also to be found via Google is a video of Jack commenting from his lawn chair as the birthday flyover was happening. Click here to see! https://www.11alive.com/video/life/heartwarming/central-ohio-wwii-veteran-gets-a-birthday-to-remember/530-3644b4df-d6eb-4d2b-a05a-9136e846aef2

(Thanks to Bob Hinklin for finding the video and doing the research!)

•

Paul Michael O'Rourke, age 89, of Marion, passed away Monday, March 7, 2016 at Fairhaven Community in Upper Sandusky, Ohio. Paul was born November 7, 1926, in Toledo, Ohio to the late Paul J. and Louise A. (Flanagan) O'Rourke. In 1944 Paul graduated from Kenton High School, enlisted proudly serving his country during WWII in the Navy. After an honorable discharge, Paul attended Bowling Green State University and later worked for American Tobacco and St. Regis Paper Company. He married Norma Buck December 1, 1951 who survives.

A dedicated and energetic Educator starting in 1952, Paul was a well-educated man and enjoyed passing along his wealth of knowledge to his students at Harding High School where he was the Chairman of the Social Studies Department and taught Government until his retirement in 1980. He directed the Intramural Sports programs and was the Tennis Coach for a number of years. In 1961, Paul became the first Marion City Recreation Director and stayed with the department until 1979. He set up numerous programs for all ages. His work with youth was particularly noteworthy including the "Swinger Youth Program". He worked an additional twenty years for Showe Property Management, managing multiple properties at different locations.

Paul was a member of St. Mary Church in Marion, Knights of Columbus Council 671, AARP and The Retired Teachers Association. He enjoyed volunteering at St. Vincent de Paul. Best known as "The Handsome one". He was also a lifelong fan of Notre Dame Football. Go Irish!

Paul is survived by his wife, Norma; children, LCDR Navy Ret Michael (Claire) O'Rourke, Kevin O'Rourke, and Kathy O'Rourke all of Marion; and sister, Patricia Scanlin of Galloway, Ohio.

A Mass of Christian Burial was celebrated 10:30 am Monday, March 14, 2016 at St. Mary Catholic Church with Father Thomas Buffer presiding. Burial followed at St. Mary's Cemetery where Military Honors were presented by The Marion County United Veterans Council. In lieu of flowers, memorial donations may be made in Paul's honor to St. Mary Church or St. Vincent de Paul.

Gunder/Hall & Snyder Funeral Home is honored to serve the O'Rourke Family and online condolences may be expressed to the family by visiting www.SnyderFuneralHomes.com

•

Mary Cree Calhoun, 88, wife of 64 years to Lloyd Calhoun, entered into rest on Monday, April 25, 2011.


Born in Louisville, OH to the Reverend Earl M. and Besse Riddle, Mrs. Calhoun grew up in parsonages in Indiana, Iowa and Ohio before attending and graduating from Ashland College in Ashland, OH. After their marriage in 1946, Mr. and Mrs. Calhoun moved to Marion, OH, where they lived for fifty years. There, they were active members of First Presbyterian Church. Mrs. Calhoun was also a charter member of Chapter DT, OH of the P.E.O. Sisterhood.

As a career educator of thirty years, Mrs. Calhoun was remembered fondly by many graduates of Marion Harding High School as their Latin II or English IV, C.P. teacher. Former students visited her frequently, thanking her for the preparation she had given them in writing. Many kept in touch with her over the years, one writing to her as recently as two weeks ago.

Her family was always at the center of Mrs. Calhoun's life. An avid golfer, especially in retirement, Mrs. Calhoun also enjoyed a good hand of bridge with friends or relatives.

In 1996, Mr. and Mrs. Calhoun moved to Evans, GA, where they enjoyed the nearness of family and the warm weather. Mrs. Calhoun continued her commitments to church and P.E.O. in Evans, joining Covenant Presbyterian Church of Augusta and Chapter P, GA of the P.E.O. Sisterhood.

A memorial service was held at 2:00 p.m. on Saturday, April 30, 2011 at Covenant Presbyterian Church with Rev. Rob Watkins officiating. A memorial service was also held in Ashland, OH at 11:00 a.m. on Monday, May 2, 2011 at Roberts Funeral Home. Interment will follow at Ashland County Memorial Park Mausoleum.

In addition to her husband; Mrs. Calhoun is survived by her daughters, Jane Willson of Evan, GA, Carolyn Walter and husband, James of Oak Park, IL; two brothers, Dr. Jackson W. Riddle of New Bern, NC, Philip M. Riddle of Ashland, OH; one sister, Joan Ronk and husband, Dorman of Ashland, OH; four grandchildren, Rob Willson, Jennifer Willson, Claire Walter, and James Walter; two sisters-in-law, Bets Lewis and Hazel Plice.

If so desired, memorials may be made to P.E.O. Education Fund, 3700 Grand Ave., Des Moines, IA 50312 or Covenant Presbyterian Church, 3131 Walton Way, Augusta, GA 30909, with a special designation for the carillon fund.

Please sign the guestbook and send condolences at www.plattsfuneralhome.com Platt's Funeral Home