In Memory
Roger Laverne Pfeiffer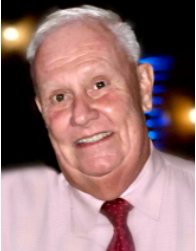 Roger L. Pfeiffer, age 76 of Marion, passed away Sunday, December 12, 2021 of complications from lymphoma at Marion General Hospital.
Roger was born January 1, 1945, the son of Lavern W. and E. Janice (Zachman) Pfeiffer. He was educated in Marion and graduated from Harding High School in the class of 1963. In that year, he was a member of the Marion Harding State Runner up men's basketball team. Roger then enrolled at The Ohio State University where he graduated with a Bachelor's degree in business. He remained a loyal and avid Buckeye fan his entire life, going to countless games with his son and lifelong friends. Roger also loved to cheer on all the Cleveland sports teams.
After college, Roger enlisted in the United States Army where he proudly served his country, being stationed in Germany, during the Vietnam War and was honorably discharged in 1971. In 2010, Roger retired as a Sales Representative for the Benjamin Steel Company.
Roger could best be described as a selfless person, always thinking of others before himself. He was a devoted husband, father and grandfather. He delighted in his grandchildren and supported them in their many sporting events and activities.
Roger fully enjoyed his retirement with his wife of 45 years, Eileen. They enjoyed many trips with friends out West, up to Michigan, visiting numerous lighthouses, and winters in Florida. Roger was just as excited to research and plan the vacation as he was to go on the trips. When he was home, he took great pride in his finely manicured lawn.
He is survived by his wife, Eileen Pfeiffer; their children: Jeff (Laurie) Pfeiffer and Lauren (Jeremy) Price; grandchildren: Evan Pfeiffer and Olivia, Sawyer and Isla Price; brother, William (the late Sharon) Pfeiffer; also surviving are numerous siblings-in-law, cousins, nieces and nephews.
Roger is preceded in death by his parents and step-father, Dr. Ray Finney.
Visitation will be Thursday, December 16, 2021 at Snyder Funeral Homes, Denzer Chapel, 360 East Center St., Marion from 4PM to 7PM; Funeral service will be Friday at Epworth United Methodist Church, 249 East Center St., Marion at 10:30AM with Rev. Mary Jo Yeakel officiating; burial will be in Marion Cemetery with military honors.
If so desired, donations may be made to Epworth United Methodist Church or the Lymphoma Research Foundation.
The Snyder Funeral Homes of Marion are honored to serve the Pfeiffer family; condolences may be expressed to the family by visiting www.SnyderFuneralHomes.com
https://www.snyderfuneralhomes.com/obituaries/Roger-L-Pfeiffer?obId=23371594#/obituaryInfo