In Memory
Jo Ann Fleming (Uhl)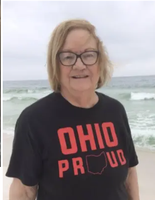 JoAnn Uhl, age 77 of Marion, passed away Sunday, August 13, 2023 at Marion General Hospital.
JoAnn was born September 19, 1945 in Marion, the daughter of Earl Franklin and Irene Mildred (Brown) Fleming. She was educated in Marion and graduated from Harding High School in 1963. Shortly after graduating, JoAnn married the love of her life, Larry Uhl at St. Mary Catholic Church in Marion.
JoAnn worked for Bob Patton as a Realtor, but found her true calling being a mother and grandmother. In her spare time JoAnn enjoyed bowling and playing golf.
JoAnn and Larry were lifelong members of St. Mary Catholic Church in Marion and enjoyed spending winters in Pensacola, Florida enjoying the gulf breeze.
She is survived by her devoted husband of 60 years, Larry Uhl; children: Tina Marie (Sparkie) Sparks of Marion and Matthew Lawrence (Lisa) Uhl of Florida; grandchildren: Iain Douglas (Allie) Sparks, Lawrence Bruce Uhl, and McKaylie Margaret Uhl; siblings: Shirley (the late George) Cerny and Douglas Fleming; siblings-in-law: Stanley Witzel and Dixie Fleming; and numerous nieces and nephews.
JoAnn is preceded in death by her parents; and siblings: Janice Witzel, Dale Fleming, Delores Thompson, Darrel (Barbara) Fleming, and Jack Fleming.
Visitation will be Friday, August 18, 2023 at Snyder Funeral Homes, Gunder/Hall Chapel, 347 West Center St., Marion from 11AM to 1PM; memorial service will follow at 1PM with Fr. Edward Shikina officiating.
Donations in JoAnn's honor may be made to Moffitt Cancer Center Foundation, PO Box 23827 Tampa, FL 33623-3827, https://give.moffitt.org/
The Snyder Funeral Homes of Marion are honored to serve the Uhl family; condolences may be expressed to the family by visiting www.SnyderFuneralHomes.com
https://www.snyderfuneralhomes.com/obituaries/Joann-Uhl?obId=28701031#/obituaryInfo