In Memory
Nina Faye Scowden (Van Brimmer)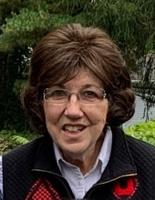 Nina Scowden Cooper Van Brimmer
Born August 27, 1945, died July 23 2022 after a brief illness.
Nina was born in 1945, the daughter of Stanton and Irene Scowden of Marion, Ohio. After graduating from high school, Nina trained to be a beautician and worked for many years as a hairdresser in the Marion area. She later moved to Delaware, Ohio and worked as the cash manager at the Columbus Pike Wal-Mart store. Nina was a devoted and faithful Christian all her life. She was a member of the Pleasant Hill Freewill Baptist Church where she served the community and congregation helping to prepare meals for the "Come and Dine" ministry. Nina loved to cook and entertain at home and at church.
Nina was a warm and loving woman who brought happiness to all who knew her. She loved and was loved by her family, friends, in-laws; as well as deeply cherished by her husband, Kenneth D. Van Brimmer, Jr.; 4 children, Douglas Allen (Michelle) Cooper of Tennessee, Julie (Van Brimmer) Ritzma of Bellefontaine, Amy Jo (Tim) Bevins of Marion, David (Gloria) VanBrimmer of Alabama; 8 grandchildren, Josh, Cassie, Jacob, Nicholas, K.J., Hanna, Alex, and Christopher; one brother, Charles Scowden; and 3 great-grandchildren, Cadyn, Addison, and Sammy.
She was preceded in death by her daughter Sheila Van Brimmer, her brother Howard Scowden, and her sister Wanda Coleman. She made the world a better place. She will be tenderly remembered and deeply missed.
A service to honor Nina's life will be held at 5pm, Saturday, July 30, 2022, at the Snyder-Rodman Funeral Center, 101 Valleyside Dr, Delaware. Visitation will be held from 2 pm to 5pm, on Saturday, at the funeral home. To leave a condolence or to share a memory, please visit www.snyderfuneralhomes.com.
https://www.snyderfuneralhomes.com/obituaries/Nina-VanBrimmer?obId=25449888#/obituaryInfo