In Memory
Robert Elsworth Burns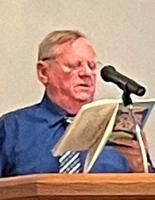 Robert Ellsworth Burns, Jr., age 76, of Waldo, passed away on Thursday, January 13, 2022 at Marion General Hospital. Born May 6, 1945, in Marion, Ohio, to the late Robert Ellsworth and Juanita (Watts) Burns, Sr., he was a graduate of Marion Harding and The Ohio State University. June of 1970, he married his loving wife, Jeanne (Walter) Burns.
Bob worked at Whirlpool for 25 years, and after retiring from there, spent several years as a substitute teacher and working on computers. He was a member of the Church of Christ in Christian Union, often leading his congregation in singing. He enjoyed fishing, bird watching, and being outdoors. Bob will truly be missed by family and friends.
Bob is survived by his wife Jeanne Burns of Waldo, Ohio; his son Ben (Melissa Woodford) Burns of Waldo, Ohio; and his sister Mary (Mike) McGrady of Montague, Michigan, and many nieces and nephews.
He was preceded in death by his parents Robert and Juanita Burns, and his brothers Herman Burns, David Burns, and Allen Burns.
Burial will take place at Waldo Cemetery.
A Celebration of Life will be held on Saturday, June 11, 2022 at the Church of Christ in Christian Union (1709 Bellefontaine Ave., Marion, OH). Visitation with the family will begin at 10:30am with the Celebration of Life Service immediately following at 11:00 am.