In Memory
Susanne Meister (Timmons)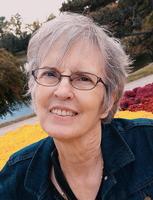 Susanne Timmons, "Sue", "Suzie", 76, of Barberton, went home to be with the Lord, Sunday, June 12, 2022 surrounded by her loving husband and two daughters.
She was born August 10, 1945 in Greenville, Ohio to the late Richard and Molly (Lovell) Meister. Anyone who knew Susanne thought she was one of the most generous, sweetest, kindest and most fun-loving people they'd ever met.
Susanne graduated from Marion-Harding High School in 1963. After high school she received her cosmetology license, but found her true calling as a Dental Assistant. She spent most of her 20+ year career employed by Dr. Arthur Richards. She was a member of the Milton Presbyterian Church, where she enjoyed singing in the church choir. Her other favorite pastimes included taking walks, writing, photography and spending time with her family.
Her true passion was singing and entertaining. In her 30's she was a member of the Akron Symphony Chorus. After she married her 2nd husband Bill in 1985, they discovered karaoke which blossomed into them performing as a Johnny Cash and June Carter tribute duo.
She is survived by her husband, William Timmons; daughters, Maureen (David) Schrenk and Sarah (Alan) Bittinger; Stepsons, Michael (Cathy) Timmons and Marc Timmons; and Stepdaughter Michelle (Rob) Ash, grandchildren, Anjelica and Luna (Austin Haynes) Raczko, Sarah, Jared and Molly Bittinger, Marcus, William, Michael and Cristi Timmons, and Tanner, Haley, Hunter and Dawson Schrenk; great grandchildren, Aurelia Haynes and Lucas, Liam and Laila Timmons; and sister, Maureen Vecchiarelli. She also has numerous cousins, nieces and nephews, and some truly wonderful friends.
She was preceded in death by her parents.
Memorial services will be held Saturday, June 18, 2022 at 11:00 a.m. at Milton Presbyterian Church, 250 N. Street, Rittman with Pastor Alex Barnes officiating.
Friends and family may call from 10:00 to 11:00 a.m. on Saturday, June 18 at the church.
A meal will be provided following the service at the church.
https://www.aublefuneralhome.com/obituaries/Susanne-Timmons?obId=25110710#/obituaryInfo